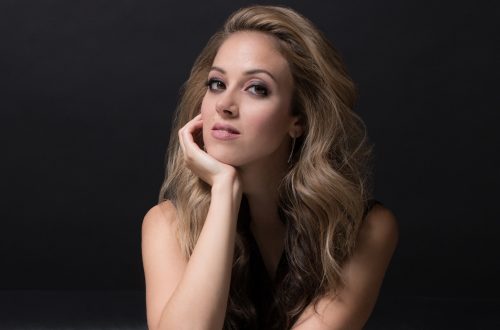 Soprano Lauren Snouffer sang with elegance and fine range, her diction immaculate, her pitch accurate. Never did she waver, her energetic performance resounding with confident luster and grace. Overall, her notes shone like a strand of pearls.
Opera Wire, Lois Silverstein
Snouffer, as starlet-Barbie-doll Romilda, has everything you could want in a Handel diva.
Financial Times, Shirley Apthorp
Snouffer has the voice and the attitude to grow into a memorable Lulu. She played the temptress with delicious abandon, feline grace and a light, clear soprano that rose easily to coloratura.
Opera News, Roberto Herrscher
Hallenberg at this stage is hardly a revelation, but the young American Lauren Snouffer's Teofane is.  The timbre is lovely, pure and flexible, yet possessing the kind of sensitive vulnerability that automatically inspires protective sentiments.  'Affanni del pensier' (Act I), an aria wracked with chromatic pain, is drawn with a wonderful sense of line that finds her at her most affecting, but Snouffer is quite outstanding throughout.
OPERA, Brian Robins
In a splendid local debut, Lauren Snouffer played his wife, Agnès, far less self-consciously than had Barbara Hannigan: the raw sensuality, when it came, didn't seem as calculated. Snouffer wore Rogers's beautifully cut dresses with style, finding a walk that suggested women's poses in medieval illustrated manuscripts. Snouffer's clear, lovely soprano reached the heights with pinpoint accuracy of attack.
Opera News, David Shengold
Discography
Recognized for her unique artistic curiosity in world-class performances spanning the music of Claudio Monteverdi and Johann Adolph Hasse through to Missy Mazzoli and George Benjamin, American Lauren Snouffer is celebrated as one of the most versatile and respected sopranos on the international stage.
During the current season, Lauren Snouffer makes her debut at the Opernhaus Zürich in the world premiere of Stefan Wirth's Girl with a Pearl Earring, in the lead role of Griet, conducted by Peter Rundel and directed by Ted Huffman.  Handel is the locus of the soprano's operatic diary for the 2019-20 with performances as Cleopatra in Giulio Cesare in Moscow, Romilda in Serse in Karlsruhe, and the title role of Aci, Galatea e Polifemo in San Francisco.  Her vibrant concert schedule includes Messiah with the symphonies of Kansas City and San Francisco, Carmina Burana with Leonard Slatkin and the Detroit Symphony, and she joins Edo de Waart for Mahler's Second Symphony with the New Zealand Symphony.
Read More
Last season's operatic performances fortified the soprano's place as one of the eminent interpreters of contemporary music; she sang the title role of Berg's Lulu in a new production at the Teatro Municipal de Santiago conducted by Pedro-Pablo Prudencio and directed by Mariame Clément, and returned to Houston Grand Opera for the world premiere of The Phoenix by composer Tarik O'Regan and librettist John Caird.  Other appearances included Handel's Serse for the Internationale Händel-Festspiele Karlsruhe directed by Max Emanuel Cencic and conducted by Georg Petrou and the role of Magnolia Hawks in Francesca Zambello's production of Show Boat for The Glimmerglass Festival.
Lauren Snouffer's concert schedule has yielded collaborations with many of the world's most distinguished conductors and orchestras including numerous performances with Franz Welser-Möst and The Cleveland Orchestra, Cristian Măcelaru and the Rotterdam Philharmonic, Krzysztof Urbański and the Indianapolis Symphony Orchestra, Bernard Labadie and Orchestra of St. Luke's, Markus Stenz and the Baltimore Symphony Orchestra, with Patrick Dupré Quigley and the San Francisco Symphony, Harry Christophers of the Handel & Haydn Society of Boston, and with Marin Alsop and the Orquestra Sinfônica do Estado de São Paulo.
Past seasons include Houston Grand Opera performances of Le nozze di Figaro conducted by Harry Bicket in a production by Michael Grandage as well as presentations of Carousel, Show Boat, The Rape of Lucretia, L'italiana in Algeri, and the world premiere of Ricky Ian Gordon's The House Without A Christmas Tree; Lyric Opera of Chicago performances of Rusalka, La clemenza di Tito, and a new production of Orphée et Eurydice directed and choreographed by John Neumeier under the baton of Harry Bicket; a Seattle Opera debut as La Comtesse Adèle in Rossini's Le comte Ory conducted by Giacomo Sagripanti; Die Zauberflöte at Seattle Opera and Lyric Opera of Kansas City; and Max Emanuel Cencic's new production of Hasse's Siroe at the Opéra Royal de Versailles, with additional performances in Budapest and Vienna.
Closely associated with George Benjamin's Written on Skin, Lauren Snouffer has sung under the composer's baton at the Tanglewood Festival of Contemporary Music and with the Théâtre du Capitole de Toulouse and Opera Philadelphia. She has performed Ligeti's Mysteries of the Macabre with the Aspen Contemporary Ensemble, presented the world premiere of Andrew Norman's A Trip to the Moon with the Los Angeles Philharmonic, and joined Alan Gilbert and the New York Philharmonic in the title role of HK Gruber's Gloria – A Pig Talei n a production staged by Doug Fitch.
An impactful discography includes Hasse's Siroe and Handel's Ottone with George Petrou for Decca, Gottschalk's Requiem for the Living with Vladimir Lande on Novona Records, Grantham's La cancíon desesperada conducted by Craig Hella Johnson on Harmonia Mundi, and Feldman's The Rothko Chapel with Steven Schick for ECM.
A graduate of the Houston Grand Opera Studio, Lauren Snouffer was a winner of a 2013 Sara Tucker Study Grant from the Richard Tucker Music Foundation, a Richard F. Gold Career Grant bestowed by Houston Grand Opera, a grand finalist in the 2012 Metropolitan Opera National Council Auditions, and was graduated from Rice University and The Juilliard School.
Video
Lulu, Teatro Municipal de Santiago
Video
Ottone, Il Pomo d'Oro
Video
Concerts Royaux & Airs serieux, Ars Lyrica Houston
Video
The House Without A Christmas Tree, Houston Grand Opera
Video
Written on Skin, Opera Philadelphia
Contact
General Management
Bill Palant, Étude Arts
Ansonia Station,Post Office Box 230132
New York, New York 10023
Tel: 929.777.0775
Email: bp@etudearts.com