Lauren Snouffer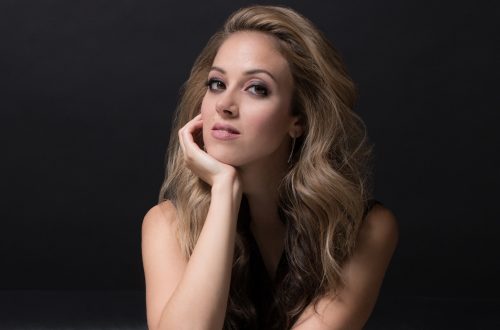 Lauren Snouffer was delightful in the soubrette role of Susannah, the Countess's maid and the fiancé of Figaro, principal servant of the Count. Upon hearing her in 2011 in a minor role at the Glimmerglass Festival in upstate New York, I found room to comment on her because she was such a standout. Here, her light, flexible soprano was perfect for Susannah, and she is a born actress, bringing just the right saucy balance to her character.
ArtsATL, James L. Paulk
 the rich-toned soprano Lauren Snouffer made Agnès's passage into awakening and rebellion strikingly vivid.
Boston Globe, Jeremy Eichler
Discography
Recognized for a unique artistic curiosity in world class performances spanning the music of Claudio Monteverdi and Johann Adolph Hasse through to György Ligeti and George Benjamin, American Lauren Snouffer is celebrated as one of the most versatile and respected sopranos on the international stage.
Opera performances of the current season include two re-engagements: Miss Snouffer returns both to the Théâtre du Capitole de Toulouse to sing the role of Héro in Béatrice et Bénédict and to Seattle Opera where she presents her highly acclaimed portrayal of Pamina in Die Zauberflöte. The soprano makes her debut with the Badisches Staatstheater Karlsruhe in the role of Tusnelda in Händel's Arminio: she recently joined an all-star cast to record the role of Teofane in Händel's Ottone under the baton of George Petrou leading Il Pomo d'Oro and Decca Classics will release the production in an upcoming season. Concert appearances feature a return to the Cleveland Orchestra for Bach's Johannes-Passion led by Franz Welser-Möst, Carmina Burana with Krzysztof Urbanski and the Indianapolis Symphony, a debut with the Rotterdam Philharmonic in performances of Mozart's Requiem conducted by Cristian Macelaru, and Händel's Messiah with Patrick Dupre Quigley and the San Francisco Symphony and Chorus.
Read More
A dynamic concert schedule has included performances of the Mozart Requiem with Harry Christophers and the Handel & Haydn Society of Boston, Brahms' Ein deutsches Requiem and Strauss' Daphne with Franz Welser-Möst and The Cleveland Orchestra, Beethoven Egmont with Markus Stenz and the Baltimore Symphony Orchestra, Bernstein's Candide with Marin Alsop and the Orquestra Sinfônica do Estado de São Paulo, Poulenc's Gloria with the Houston Ballet, and Händel Messiah with Mercury Baroque.
Highlights of past seasons include Houston Grand Opera performances of Le nozze di Figaro conducted by Harry Bicket in a production by Michael Grandage as well as presentations of Carousel, Show Boat, The Rape of Lucretia, and L'italiana in Algeri, Lyric Opera of Chicago productions of Rusalka and La clemenza di Tito, a Seattle Opera debut as La Comtesse Adèle in Rossini's Le comte Ory, The Magic Flute at the Lyric Opera of Kansas City, and Max Emanuel Cencic's new production of Hasse's Siroe at the Opéra Royal de Versailles, with further performances in Budapest and Vienna; the project also was recorded and released commercially by Decca Classics.
Highly sought-after for her consummate artistry in contemporary music, Lauren Snouffer has sung the role of Agnes in George Benjamin's Written on Skin under the composer's baton at the Tanglewood Festival of Contemporary Music and for the Théâtre du Capitole de Toulouse, HK Gruber's Gloria – A Pig Tale conducted by Alan Gilbert and directed by Doug Fitch for the New York Philharmonic Biennale, Ligeti's Mysteries of the Macabre with the Aspen Contemporary Ensemble, and she will add the title role of Berg's Lulu in an upcoming season for the Teatro Municipal de Santiago, Chile.
A recent graduate of the Houston Grand Opera Studio, Lauren Snouffer was a winner of a 2013 Sara Tucker Study Grant from the Richard Tucker Music Foundation, a Richard F. Gold Career Grant bestowed by Houston Grand Opera, a grand finalist in the 2012 Metropolitan Opera National Council Auditions, and was graduated from Rice University and The Juilliard School.
Contact
General Management
Bill Palant, Étude Arts
Ansonia Station,Post Office Box 230132
New York, New York 10023
Tel: 929.777.0775
Email: bp@etudearts.com