Clay Hilley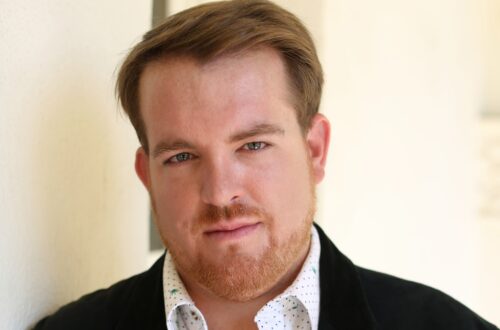 Clay Hilley contributed a fine characterization as the passive-aggressive prison priest Father Grenville. The young singer possesses a daunting Heldentenor, and his huge voice soared over the massed ensemble in the prayer that closes Act II.

Chicago Classical Review, Lawrence A. Johnson 
For the remarkably high-lying, famously testing part of Paul, Bard fielded tenor Clay Hilley, in a very impressive role debut. The Georgia native has a striking résumé of dramatic parts, including a strong Dimitrij in Dvorˇák's opera at Bard two summers ago. Hilley sustained Korngold's punishing tessitura admirably, keeping the line musical and dynamically flexible, earning vociferous bravos.

Opera News, David Shengold 
As he had two years ago as Dvorak's Dimitrij, indefatigable American heldentenor Clay Hilley poured out floods of secure, golden, seemingly effortless tone throughout. One never ever had to nervously hold one's breath as each soaring forte climax approached.

I can imagine Paul will suit Kaufmann's brooding persona quite well but I'll be surprised if he surpasses Hilley's phenomenal singing on Sunday after which the American was cheered to the Gehry-rafters with a real hero's ovation.

Parterre Box, Christopher Corwin 
Paul's tessitura lies astonishingly high, but it proved child's play for American tenor Clay Hilley, who dispatched the long and punishing part with practiced ease. Moreover, he conquered the role without sacrificing tonal beauty or musical intelligence, and he offered a skillfully acted portrait of a man in the grip of his ghosts.

Bachtrack, Cameron Kelsall 
Clay Hilley's soaring lines set a high standard for the vocal soloists…

Chicago Tribune, Howard Reich 
Hilley's powerful voice and expressive delivery perfectly complemented soprano Christine Goerke.

Atlanta Journal-Constitution, Jon Ross
Clay Hilley, as Menelas, was a powerhouse, a heldentenor of apparently indefatigable torque and point; some of his clarion notes may still be bouncing around Jordan Hall's rafters.

The Boston Globe, Matthew Guerrieri
The role [Dvořák's Dimitrij] is a daunting challenge for a heroic tenor. Clay Hilley brought vocal heft, clarion sound and stamina to the role.

The New York Times, Anthony Tommasini
…Hilley has something that very few singers have nowadays and that is he can act with his voice and can captivate audiences once he begins.  For opera houses saying there are no dramatic tenors, look no further as Clay Hilley is a tenor on the rise who needs attention.

Operawire, Francisco Salazar
American heldentenor, Clay Hilley, is poised for a prominent international career in the most demanding roles of the operatic repertory.  From Bacchus to Siegfried and Canio to Samson, The New York Times has acclaimed the Georgia native for his "vocal heft, clarion sound and stamina."
Honing his repertoire and stage experience at first by covering in the leading international opera houses of North America, engagements have included Parsifal with Yannick Nézet-Séguin at the Metropolitan Opera, Der Ring des Nibelungen with Donald Runnicles and Turandot conducted by Nicola Luisotti at San Francisco Opera, Siegfried at the Canadian Opera Company led by Johannes Debus, and Samson et Dalila under the baton of Emmanuel Villaume at The Dallas Opera.
In the 2020-21 season, Clay Hilley was engaged to sing Walther von Stolzing in Die Meistersinger von Nürnberg with the Orchestra dell'Accademia Nazionale di Santa Cecilia conducted by Sir Antonio Pappano, the title role of Siegfried at Nationaltheater Mannheim, Fidelio at Prague State Opera and Washington National Opera, Aida at Pittsburgh Opera, the title role of Der Zwerg at San Francisco Opera, and the role of Phoebus in Schmidt's Notre-Dame at Theatre St. Gallen.  Concert appearances include Mahler's Das Lied von der Erde with the Orchestra dell'Accademia Nazionale di Santa Cecilia conducted by Sir Antonio Pappano and the Second Act of Tristan und Isolde with Edward Gardner leading the Orchestra of the Norwegian National Opera and Ballet.
Read More
Clay Hilley joined Lyric Opera of Chicago in 2019-20 for performances of Dead Man Walking and to cover Siegfried in Der Ring des Nibelungen.  Other engagements included the Drum Major in the Metropolitan Opera's new production by William Kentridge of Wozzeck, and a semi-staged presentation of Die Tote Stadt at Bard SummerFest.
In recent seasons, Clay Hilley has performed the title role of Dvořák's Dimitrij in a new production by Anne Bogart for the Bard Music Festival conducted by Leon Botstein, the title role of Mozart's Idomeneo both in a new production by Arila Siegert at the Salzburger Landestheater under the baton of Mirga Gražinytė-Tyla and at the Theater Würzburg in a production by Stefan Suschke conducted by Enrico Calesso, Radamès in Aida with Opera Southwest and Baltimore Concert Opera, Canio in Pagliacci with Virginia Opera, and Erik in Der fliegende Holländer with Austin Lyric Opera.
Concert experience includes performances of Beethoven's Fidelio with Robert Spano and the Atlanta Symphony Orchestra, Mahler's Eighth Symphony with Marin Alsop and the Chicago Symphony Orchestra at the Ravinia Festival, with John DeMain and the Madison Symphony Orchestra, and with Leon Botstein and the American Symphony Orchestra, as well as Das Lied von der Erde with The Apollo Orchestra of Washington, D.C.  Emerging as a world class Straussian tenor, he has sung Menelaus in Die ägyptische Helena with Gil Rose and Odyssey Opera and Gundelfingen in Feuersnot with Leon Botstein and the American Symphony Orchestra at Carnegie Hall.
The Wagner Society of New York presented Clay Hilley in recital, singing a program of Mahler, Janáček, Mozart, Dvořák, and Wagner following the Society's recognition of the tenor with its Top Prize, the Robert Lauch Award, in 2015.  He received his Bachelor of Music degree in Music Education at the University of Georgia, a Master of Music degree in Vocal Performance from Georgia State University, a Professional Studies Certificate from the Manhattan School of Music, and a Performer's Certificate from the Opera Institute at Boston University.
Video
Das Lied von der Erde: Opera Roanoke
Video
Die Ägyptische Helena: Odyssey Opera
Video
Idomeneo: Salzburger Landestheater
Video
Ariadne auf Naxos: National Opera Center
Contact
General Management
Bill Palant, Étude Arts
Ansonia Station,Post Office Box 230132
New York, New York 10023
Tel: 929.777.0775
Email: bp@etudearts.com