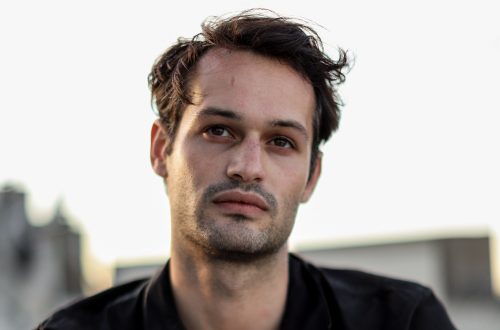 "The Black Clown," at the Gerald W. Lynch Theater as part of Lincoln Center's Mostly Mozart Festival, is full of such unsettling, quicksilver reversals. Adapted by Mr. Tines and Michael Schachter from Langston Hughes's 1931 poem, this rich, seamless production melds the past and present of African-American history into an electrifyingly ambivalent whole.  Yet as directed by Zack Winokur, with choreography by Chanel DaSilva and sets and costumes by Carlos Soto, this "Black Clown" feels like a natural extension of the single voice — and the divided self — at its center. As such, it becomes both a bravura, in-the-moment entertainment and a haunted, self-conscious questioning of the ways in which it entertains.

The New York Times, Ben Brantley  
Sometimes you watch a production and experience total perfection. Yesterday evening was such a night. Sondheim's A Little Night Music performed by the Nederlandse Reisopera, an opera company which chose to work on Sondheim musicals (Sweeney Todd was their earlier production), next to classic opera repertoire. And my oh my, what an excellent choice to do so.

Broadway World, Chantal Kunst  
one of the most elegant and imaginative shows seen in New York this season.

Opera News, F.Paul Driscoll  
Grand opera–lavish in scale, setting and voices–certainly has its place, but, oh, the joys of hearing Cavalli and Faustini's bawdy, early baroque charmer LA CALISTO in a theatre with fewer than 100 seats! The Juilliard Opera did just that, at their Rosemary and Meredith Willson Theatre, in a superbly directed and choreographed production by Zack Winokur that also boasted Juilliard415, the school's period instrument ensemble, conducted by early music specialist Stephen Stubbs. The production not only proved a great showcase for the singers, dancers and instrumentalists but for the opera itself, which is still infrequently heard and should be better known.

Broadway World, Richard Sasanow 
With work described as "pure poetry" (The Boston Globe), stage director, choreographer, and dancer Zack Winokur is recognized as one of the most innovative and exciting talents working in opera and theatre today.
In his February 2021 announcement of the launch of NY PopsUp – an expansive festival featuring hundreds of pop-up performances, many of which are free of charge and all open to the public intended to revitalize the spirit and emotional well-being of New York citizens with the energy of live performance while jumpstarting New York's struggling live entertainment sector – Governor Andrew M. Cuomo tapped Zack Winokur to lead the unprecedented series of events.  The private/public partnership is overseen by producers Scott Rudin and Jane Rosenthal, in coordination with the New York State Council on the Arts and Empire State Development.
Read More
For the 2019-20 season Zack Winokur had been engaged by the Los Angeles Philharmonic to mount a fully staged new production of Sondheim's Sunday in the Park with George at Walt Disney Concert Hall conducted by Gustavo Dudamel and to direct a new production of Wagner's Tristan und Isolde – the centerpiece of Santa Fe Opera's 2020 season – under the baton of James Gaffigan.
Zack Winokur's 2018-19 season included his "rich, seamless" (The New York Times) production of The Black Clown, an adaptation of the Langston Hughes poem starring Davóne Tines with music by Michael Schachter, at the Mostly Mozart Festival at Lincoln Center and the American Repertory Theater; his "darkly captivating" (The New York Times) production of Perle Noire: Meditations for Joséphine, with music by Tyshawn Sorey, text by Claudia Rankine, and starring Julia Bullock on the grand staircase of the Metropolitan Museum of Art; Sondheim's A Little Night Music with the Nederlandse Reisopera in collaboration with design firm Charlap Hyman & Herrero and visual artist Cynthia Talmadge; a new production of Hans Werner Henze's El Cimarrón starring Davóne Tines, also at the Met Museum; and a new piece for the Los Angeles Dance Project at the Luma Foundation in Arles, France.
Further recent highlights include Monteverdi's L'incoronazione di Poppea starring Anthony Roth Costanzo at the Cincinnati Opera; an immersive pairing of Gluck's Orfeo and Matthew Aucoin's Orphic Moment at Lincoln Center's Rose Theater; Il Barbiere di Siviglia with Lotte de Beer at the Dutch National Opera; and Monteverdi's Il ballo delle Ingrate with William Christie and Rameau's Hippolyte et Aricie with Stephen Wadsworth at Juilliard.
In 2017 Winokur founded AMOC (American Modern Opera Company).  AMOC is an ensemble of singers, musicians, and dancers committed to creating a body of new, discipline-colliding music-theater works.  Described by The New York Times as "blindingly impressive" and "preternaturally talented," AMOC's productions are collaborations between its core members that range from operatic stage work to creatively curated chamber events.  In its first 18 months, AMOC launched an annual Run AMOC! Festival at the American Repertory Theater, held its first major teaching and performance residency at Harvard University, was Artist-in-Residence at New York's Park Avenue Armory, performed a new version of John Adams' El Niño arranged specially for the company at the Met Cloisters, and made appearances at the Big Ears Festival, Clark Art Institute, and Rockport Chamber Music Festival.
In the press, Zack Winokur has been described as being "behind some of the most interesting productions we have seen on stage and concert halls anywhere lately" (WQXR).  His most recent award-winning production of The Black Clown, first a sold-out three week run at the American Repertory Theater and then a sold-out run at Lincoln Center's Mostly Mozart Festival, was described as a "…a bravura, in-the-moment entertainment and a haunted, self-conscious questioning of the ways in which it entertains" (Ben Brantley, The New York Times) and received raves and features in The New York Times, The New Yorker, New York magazine and elsewhere.  Of CAGE, a staged version of John Cage's complete Sonatas and Interludes conceived by Winokur and AMOC's pianist Conor Hanick for Run AMOC! Festival, The New York Times lauded it as "the best instrumental concert I have seen all year by virtue of its rethinking of the basics of what a recital might be."
His original production of Were You There was described by the Los Angeles Times as "staggering… astonishing… bringing overwhelming humanity to exactly the place where it is needed."  A production of Cavalli's Venetian baroque masterpiece La Calisto for The Juilliard School was hailed as "one of the most elegant and imaginative shows seen in New York this season" in Opera News, and garnered rave reviews in a plethora of other publications including The New York Times and Vogue, and received a nomination for Best Production of the Year in Opernwelt – the only American production to be nominated.
A truly multi-disciplinary artist, Zack Winokur has collaborated with a diverse group of artists in a range of media, including Academy Award-nominated director Mike Figgis, pianist Rosey Chan, fashion house Boudicca, grime artist Pepstar, the Canadian electronic music group A Tribe Called Red, artists Gerard & Kelly in venues from David Lynch's Club Silencio, the Centre Pompidou, the Mies van der Rohe Farnsworth House, the Royal Opera House, and the Supreme Court of the United States.
Additional productions include The New Prince (Dutch National Opera, world premiere), Svadba (Festival d'Aix-en-Provence, Grand Theatre de Luxembourg, European premiere), Dido and Aeneas (La Nuova Musica at St John's Smith Square), A Flowering Tree (Opera Omaha), Les Mamelles de Tirésias (Festival d'Aix-en-Provence, La Monnaie, Aldeburgh Music, Dutch National Opera), Der Kaiser von Atlantis (Central City Opera, Juilliard Opera), Most of the Boys (Royal Opera House, world premiere), Mesh (International Contemporary Ensemble, world premiere), Triptych (Museum of Arts and Design), and a restaging of Episode 31 by Alexander Ekman for the Joffrey Ballet.
Winokur was born in Boston, Massachusetts and is a graduate of The Juilliard School.
Video
Metropolitan Museum of Art: Nativity Reconsidered: El Niño
Video
American Repertory Theater: The Black Clown
Video
Cincinnati Opera: L'incoronazione di Poppea
Video
Dutch National Opera: The New Prince
Video
Juilliard Opera: La Calisto
Video
A Tribe Called Red: Virus
Contact
General Management
Bill Palant, Étude Arts
Ansonia Station,Post Office Box 230132
New York, New York 10023
Tel: 929.777.0775
Email: bp@etudearts.com