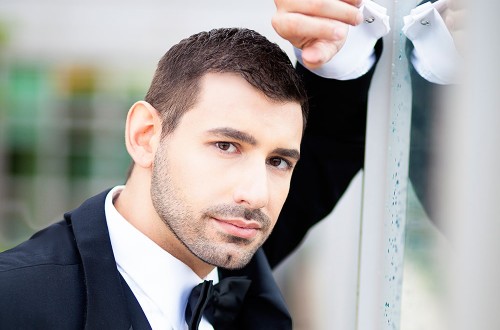 Michele Angelini è stato un Don Ramiro capace di rendere al meglio i sospiri dell'anima e gli abbandoni lirici. Il registro acuto è stato dosato con cura e plasmato a dovere per offrire agli spettatori una voce fresca e piacevole.
Operalibera, Simone Ricci
Michele Angelini [ist] Ein traumhafter Tenore di grazia mit grossem Fundament, kräftigen Höhen, perfekter Technik und virtuoser Musikalität.
Online Merker, Jan Krobot
C'est finalement Michele Angelini qui aura été la révélation de la soirée. Voix longue, aigus brillants et timbre ensoleillé voilà les atouts maîtres du ténor américain qui a conquis le public du Théâtre des Champs-Élysées, auxquels il faut ajouter une capacité à émettre des vocalises en rafale et un physique de jeune premier. Son « Cessa di più resistere » spectaculaire a mis la salle à genoux.
Forum Opéra, Christian Peter
The words "Rossini tenor" too often presage pinched, penetrating sounds. But Michele Angelini, as a handsome Prince Ramiro, displays a voice of silken loveliness as well as graceful agility.
Dallas Morning News, Scott Cantrell
Heralded by the Dallas Morning News as an artist who "displays a voice of silken loveliness as well as graceful agility," Michele Angelini made his European operatic debut at the Rossini Opera Festival in Pesaro as Conte di Libenskof in Il viaggio a Reims and thrills audiences on leading international stages in repertoire of Bellini, Donizetti, Gluck, Händel, Mozart, and Rossini.
Michele Angelini's 2018-19 season evidences his emergence onto international stage as one of the leading leggiero tenors before the public.  Prominent house debuts include performances of Tancredi at Bari's Teatro Petruzzelli and Il viaggio a Reims at The Bolshoi along with return engagements to Berlin's Staatsoper Unter den Linden in Il barbiere di Siviglia and to Teatro dell'Opera di Roma for La cenerentola.  A dynamic concert schedule includes Rossini's Stabat Mater with Gianandrea Noseda and the National Symphony Orchestra at The Kennedy Center and Carnegie Hall, a debut at the Edinburgh International Festival in Il barbiere di Siviglia with Jérémie Rhorer leading Le Cercle de l'Harmonie, and concert performances of Thaïs– singing the role of Nicias opposite Plácido Domingo as Athanaël – at the Teatro Real and the Castell de Peralada Festival.
Read More
Last season, Michele Angelini celebrated debuts at the Teatro Municipal de Santiago in La cenerentola; at the Théâtre des Champs-Élysées in a new production by Laurent Pelly of Il barbiere di Siviglia; and at the Bayerische Staatsoper as Narciso in Christoph Loy's production of Il turco in Italia and as Idreno in David Alden's production of Semiramide, both under the baton Antonello Allemandi.
Highlights of recent seasons include the title role of Gluck's Orphée et Eurydice at the Royal Opera House, Covent Garden with Sir John Eliot Gardner and the English Baroque Soloists in a new production co-directed by Hofesh Shechter and John Fulljames, reprised in concert with Maestro Gardiner and his ensembles at the famous Laeiszhalle in Hamburg and the Opéra Royal in Versailles; a Metropolitan Opera debut as Ruodi in the company's new production of Guillaume Tell conducted by Fabio Luisi; Il barbiere di Siviglia at the Royal Opera House, Covent Garden, Staatsoper im Schiller Theater Berlin, Royal Swedish Opera, and the opera companies of Bilbao, New Orleans, Pittsburgh, and Seville; Il viaggio a Reims at Maggio Musicale Fiorentino; L'italiana in Algeri at Teatro Comunale di Bologna, Asociación Bilbaína de Amigos de la Ópera, and the Atlanta Opera; Don Giovanni at the Royal Opera House, Covent Garden, Royal Swedish Opera, and Savonlinna Opera Festival; Così fan tutte at Teatro dell'Opera di Roma; and the world premiere of Benoit Mernier's Frühlings Erwachen at the Théâtre Royal de la Monnaie.
Concert work has featured a Rheingau Musik Festival debut in performances of Rossini's Stabat Mater with Music Director Andrés Orozco-Estrada conducting the Frankfurt Radio Symphony Orchestra; a program of arias and duets by Boieldieu, Donizetti, and Rossini with Angela Meade and Vivica Genaux led by Antony Walker for Washington Concert Opera; Rodrigo in Rossini's Otello with Opera Orchestra of New York and Moïse et Pharaon with The Collegiate Chorale both at Carnegie Hall; Gennaro in Lucrezia Borgia at Bel Canto at Caramoor with the Orchestra of St. Luke's; Rossini's Petite Messe Solennelle with the New York Choral Society at Lincoln Center; and Handel's Messiah with the National Symphony Orchestra at the Kennedy Center and at Oslo's Den Norske Opera.
Video
Tancredi: Teatro Petruzzelli
Video
Semiramide: Bayerische Staatsoper
Video
Il barbiere di Siviglia: Théâtre des Champs-Elysées
Video
Rossini Stabat Mater: Rheingau Musik Festival
Contact
General Management
Bill Palant, Étude Arts
Ansonia Station,Post Office Box 230132
New York, New York 10023
Tel: 929.777.0775
Email: bp@etudearts.com