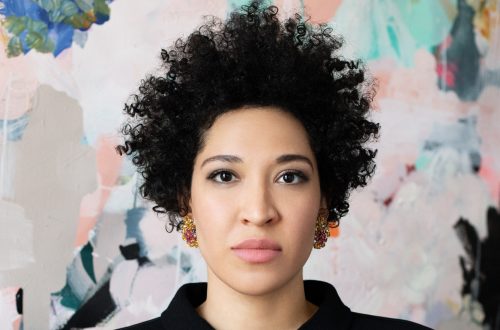 But her rendition Thursday of song cycles by Britten and Ravel revealed a new and thrilling skill in her repertoire — the ability to plunge unnervingly deep into this music and then surface, like some kind of musical pearl diver, with great glistening strands of expressive jewels. In particular, Bullock's account of "Les Illuminations," Britten's fervid but slippery setting of Rimbaud's poetry, emerged as something of a revelation. The texts in these nine songs are elusive to the point of madness; to try to grasp even the literal sense of these sinuous, quicksilvery lines, let alone their significance, is like clutching at eels…Between them, Bullock and Salonen negotiated that gap in a performance of magnificent expansiveness. Singing from memory and with a theatrical directness that is rare on a concert stage, Bullock gave the illusion of making the piece up as she went along — there was a vivid, edge-of-the-seat propulsiveness to even the most rhapsodic songs that lent them an air of vibrancy and danger. …For a listener who has always admired this cycle without quite understanding how to love it, the performance came as a revelation.
San Francisco Chronicle, Joshua Kosman 
Julia Bullock was the soprano. Although her career is still young, she is already, I think, the most compelling dramatic singer we have on the stage. Many (OK, most) love "Knoxville" and its evocations. I don't. Though exquisite in its construction, it pries on manipulative nostalgia. But team Bullock and Dudamel went far beyond that, making notes and words speak. Somehow this no longer sounded like Barber but something intrinsically personal. For at least one listener, the performance was a miracle.
Los Angeles Times, Mark Swed
But it was Julia Bullock, who turned out to be the opera's emotional powerhouse. Her delicate soprano, which hit the score's high notes convincingly, gave the character depth and sincerely without making it boring and unnecessarily prim. It is a large role and Bullock, just as Paul Appleby, was superb in the final scene to which she gave a contained yet deeply moving interpretation..
Operawire, Malina Gueorguiev
This is the kind of great Schubert singing that were I not to hear another song sung this year, it wouldn't be a wasted year.
Los Angeles Times, Mark Swed
Discography
American vocalist Julia Bullock is "a musician who delights in making her own rules" (New Yorker). Combining versatile artistry with a probing intellect and commanding stage presence, she has, in her early 30s, already headlined productions and concerts at some of the preeminent arts institutions worldwide. An innovative programmer whose artistic curation is in high demand, she serves as 2019-20 Artist-in-Residence of the San Francisco Symphony, while her past, present and future curatorial positions include 2018-19 Artist-in-Residence of New York's Metropolitan Museum of Art, opera-programming host of new broadcast channel All Arts, founding member of the American Modern Opera Company (AMOC), and member of a newly created cross-disciplinary artistic team assembled by Esa-Pekka Salonen for his inaugural season as Music Director of the San Francisco Symphony (2020-21). Chosen as one of WQXR's "19 for 19" artists to watch in 2019, Bullock is also a prominent voice of social consciousness and activism. She is, in the words of Vanity Fair, "young, highly successful, [and] politically engaged," with the "ability to inject each note she sings with a sense of grace and urgency, lending her performances the feel of being both of the moment and incredibly timeless."
As San Francisco Symphony's 2019-20 Artist-in-Residence, Bullock curates and performs a range of diverse programs over the course of the season. First, with Music Director Designate Salonen, she sings Ravel's Trois poèmes de Stéphane Mallarmé and Britten's Les Illuminations– which is also the vehicle for her upcoming debuts with the Milwaukee and Indianapolis Symphonies, and Dublin's RTÉ National Symphony Orchestra. The San Francisco residency continues with a program at the experimental SoundBox performance space, and concludes with an expanded version of her recital program "History's Persistent Voice," which she debuted at New York's Metropolitan Museum of Art. This mixed-media concert of all-new commissioned music by American women of color aims to highlight the words, work and experiences of Black American artists, from traditional slave songs to poetry by those incarcerated. This new iteration of "History's Persistent Voice" features four additional world premieres composed by award-winning composers Rhiannon Giddens, Camille Norment, Cécile McLorin Salvant, and Pamela Z.
Read More
To launch the 2019-20 season, Bullock sings Barber's Knoxville: Summer of 1915, first with the Los Angeles Philharmonic and Gustavo Dudamel, and then with the Knoxville Symphony at Washington's Kennedy Center, as part of "SHIFT: A Festival of American Orchestras." Marking her debut at Paris's Théâtre du Châtelet, she reprises Perle Noire: Meditations for Joséphine, the musical portrait of Josephine Baker that was conceived by Bullock in collaboration with director Peter Sellars and written for her by MacArthur "Genius" Fellows Tyshawn Sorey and Claudia Rankine. Finally, on an eight-stop transatlantic tour, the American vocalist joins French pianist Cédric Tiberghien under Katie Mitchell's direction for the American, British, Belgian, and Russian premieres of Zauberland ("Magic Land"), a new work juxtaposing Schumann's Dichterliebe with original songs written for her by Bernard Foccroulle and Martin Crimp.
Last season, as Artist-in-Residence of the Metropolitan Museum of Art, Bullock curated five thought-provoking programs in some of the museum's most iconic spaces: the original version of "History's Persistent Voice," showcasing new Met commissions from Tania León, Courtney Bryan, Jessie Montgomery, and Allison Loggins-Hull; Perle Noire: Meditations for Joséphine, marking the first full-length musical performance ever on the museum's grand staircase; a program of Langston Hughes poetry and musical settings, featuring New York Philharmonic principal clarinetist Anthony McGill, the Young People's Chorus of New York, and American composers and vocalists; a new chamber arrangement of John Adams's Christmas oratorio, El Niño, at the Cloisters; and AMOC's account of the rarely performed work, El Cimarrón ("The Runaway Slave") by Hans Werner Henze.
The Met residency crowned a banner 2018-19 season for Bullock. She gave the world and German premieres of Zauberland at Paris's Théâtre des Bouffes du Nord and Germany's Weimar Arts Festival, as well as the world premiere of Terence Blanchard's Fire Shut Up in My Bones at the Opera Theatre of Saint Louis. She also reprised Dame Shirley, the leading role she created in John Adams's Girls of the Golden West, for the work's European premiere at Dutch National Opera; opened the Saint Paul Chamber Orchestra's season; and gave a North American recital tour with her frequent piano partner, John Arida, that culminated at Carnegie Hall.
Bullock has recently made several key operatic debuts: at San Francisco Opera in the world premiere of Adams's Girls of the Golden West, at Santa Fe Opera as Kitty Oppenheimer in Adams's Doctor Atomic, at Festival d'Aix-en-Provence and Dutch National Opera as Anne Truelove in Stravinsky's The Rake's Progress, and at the English National Opera, Spain's Teatro Real, and Russia's Perm Opera House and Bolshoi Theatre in the title role of Purcell's The Indian Queen. Her wide-ranging repertoire also encompasses the title roles of Massenet's Cendrillon, Ravel's L'enfant et les sortilèges, and Janaček's The Cunning Little Vixen. She has also found particular success with her portrayals of two Mozart heroines: Susanna in Le nozze di Figaro and Pamina in Die Zauberflöte, which she has sung on tour in South America under the direction of Peter Brook and in concert with Gustavo Dudamel and the Los Angeles Philharmonic.
Since 2014, Bullock has embarked on high-profile North American recital tours that have also featured masterclasses and local school performances. She has sung extensively with esteemed ensembles and conductors around the world, including the BBC Symphony, Boston Symphony, London Symphony Orchestra, New York Philharmonic, NHK Symphony in Japan, Sydney Symphony, Musica Aeterna and the International Contemporary Ensemble (I.C.E.), and conductors Marin Alsop, Teodor Currentzis, Alan Gilbert, Paavo Järvi, Andris Nelsons, Sir Simon Rattle, David Robertson, and Michael Tilson Thomas.
Bullock's growing discography already comprises a number of distinguished recordings. Her account of Quatre poèmes hindous with the London Symphony Orchestra was captured live on DVD, as was her title role appearance in Peter Sellars's production of The Indian Queen for Sony Classical. Her starring role in Adams's Doctor Atomic, recorded with the composer conducting the BBC Symphony Orchestra, was a nominee for the 2018 Grammy Award for Best Opera Recording, and her opening aria, "Am I in your light…" was selected as one of the New York Times's "25 Best Musical Tracks of 2018." Doctor Atomic marked Bullock's second appearance on a Grammy-nominated recording, following her live account of West Side Story with Tilson Thomas and the San Francisco Symphony, a nominee for Best Musical Theater Album in 2014.
Her other honors include the 2016 Sphinx Medal of Excellence, a 2015 Leonore Annenberg Arts Fellowship, the 2015 Richard F. Gold Grant from the Shoshana Foundation, Lincoln Center's 2015 Martin E. Segal Award, First Prize at the 2014 Naumburg International Vocal Competition, and First Prize at the 2012 Young Concert Artists International Auditions. She was featured among the "Best Classical Music of 2018" by the New York Times, Los Angeles Times, Washington Post, and Philadelphia Inquirer; as one of Opera News's "18 to Watch in 2018-19"; and among the New York Times's "Best Classical Music of 2016."
Bullock's political engagement is informed by her own mixed heritage, and she is committed to integrating community activism with her musical life. As well as trying to undertake outreach work in each city she visits, she serves on the Advisory Board of Turn The Spotlight, a foundation designed to empower women and people of color, both on stage and behind the scenes, to make a more equitable future in the arts. She has also organized and participated in benefit concerts for the FSH Society, which funds research for Muscular Dystrophy; the Medicine Initiative for New York's Weill Medical Center; and the Shropshire Music Foundation, a non-profit serving war-affected children and adolescents through music education and performance programs in Northern Ireland, Kosovo, and Uganda.
Julia Bullock was born in St. Louis, Missouri, where she joined the artist-in-training program at Opera Theatre of Saint Louis while in high school. She went on to earn her Bachelor's degree at the Eastman School of Music, her Master's degree in Bard College's Graduate Vocal Arts Program, and her Artist Diploma at New York's Juilliard School. It was there that she first met her husband, conductor Christian Reif, with whom she now lives in Munich.
Video
San Francisco Symphony 2019-20 Artist-in-Residence
Video
Girls of the Golden West, Dutch National Opera
Video
History's Persistent Voice Profile, Metropolitan Museum of Art
Video
The Rake's Progress, Dutch National Opera
Video
Quatre poèmes hindous, London Symphony Orchestra
Contact
General Management 
Bill Palant, Étude Arts
Ansonia Station,Post Office Box 230132
New York, New York 10023
Tel: 929.777.0775
Email: bp@etudearts.com
Press & Public Relations 
Elizabeth Fildes, Account Manager, 21C Media Group
200 West 57th Street, Suite 403
New York, New York 10019
Tel: 212.245.2110
Email: efildes@21cmediagroup.com
Glenn Petry, Founding Partner and Director of Public Relations, 21C Media Group
200 West 57th Street, Suite 403
New York, New York 10019
Tel: 212.245.2110
Email: gpetry@21cmediagroup.com