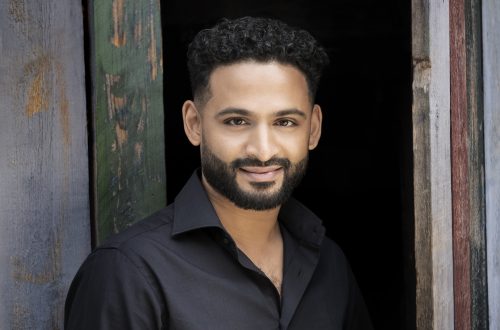 Maestro Jordan de Souza leads a sprightly orchestra that sparkles in innocence then roars with vengeance. Everything is taut and finely honed, diaphanous, then thick. The singers blossom under him.

Houston Press,  D. L. Groover
Si nous étions responsables du comité de sélection de l'OSM, nous convoquerions illico les membres dudit comité en délégation à assister ce soir à la Maison symphonique de Montréal au concert de l'Orchestre Métropolitain afin de superviser Jordan de Souza.

À 30 ans, le Torontois formé à l'Université McGill oeuvre comme Kapellmeister de l'Opéra comique de Berlin, l'institution la plus innovatrice et dynamique de la capitale allemande. La fulgurance et la lumineuse intelligence de son interprétation de la Symphonie « Le printemps » de Schumann prouvent une fois de plus que les musiciens d'ici savent « donner la note », comme disent certains, même sur le podium.

Le mélomane ne peut que rester pantois devant la somme de grands talents révélés récemment. Jordan de Souza possède pour le moment, en plus, ce zeste de saine folie et cette hardiesse qui parviennent à provoquer des étincelles musicales.

Le Devoir,  Christophe Huss
While the cast worked wonders collectively, the star may have been maestro Jordan de Souza. The Kapellmeister at KOB guided a Komische Oper orchestra that formed a luminous sound with Tchaikovsky's score. One's heart was pulled along with every melody under the baton of de Souza, who should be heard from in the future.

Opera Wire, Santosh Venkataraman
He'd be on the podium and flash his warm radiant smile, and breathe with me as I'd start to sing and I felt as if I was in the most capable hands on earth.

Toronto Star,  Adrianne Pieczonka
Hailed by The New York Times as part of "the new generation leading Berlin's classical music scene," Canadian conductor Jordan de Souza earned this distinction while serving as First Kapellmeister of the Komische Oper Berlin from 2017 through 2020.  During this term, he collaborated with renowned director Barrie Kosky on four critically acclaimed new productions: Pelléas et Mélisande; La bohème; Weinberger's Frühlingsstürme; and Candide.  Their partnership continues this autumn in a new production of Gluck's Iphigenia auf Tauris.  Debuts of the 2020-21 season begin with Die Zauberflöte at the Bayerische Staatsoper and continue with Les contes d'Hoffmann at the Gran Teatre del Liceu and Don Quichotte at the Deutsche Oper Berlin. Symphonic concerts include a return to the Orchestre symphonique et lyrique de Nancy in a program of Brahms and Schumann, and a debut with the Orchestre Symphonique de Québec in a program of Tchaikovsky and Zemlinsky.
Read More
Looking ahead, he makes debuts with the Opernhaus Zürich and Lyric Opera of Chicago, and, following his debut with the London Philharmonic Orchestra in the Glyndebourne Cup Competition in 2020, he has been invited to conduct a new production at the 2022 Glyndebourne Festival.
Recent highlights have included debuts with Houston Grand Opera in Rigoletto and the Staatsoper Hannover in La bohème.  In Hannover he also conducted a concert program including Zemlinsky Lyric Symphony and Debussy La Mer.  Other recent concerts have included a return invitation to the Orchestre Métropolitain in Montreal with a program of Schumann, Sibelius and Delius.
Born in Toronto, Jordan de Souza studied conducting at McGill University Montreal and made his conducting debut aged 20 leading Bach's St. John Passion.  Upon graduating, he joined the McGill faculty from 2011 to 2015 and went on to conduct several important choral works including Bach's St. Matthew Passion, Christmas Oratorio, Mass in b minor, and the Requiems of Verdi, Mozart, and Fauré.  During this time he was also Conductor in Residence of Tapestry Opera in Toronto, conducting the world premieres of three full-length operas.
He made his debut in 2015 for the Canadian Opera Company conducting their Claus Guth production of Le nozze di Figaro.  The following year he was invited to join the staff of the Komische Oper Berlin where he has conducted Don Giovanni, La traviata, Petrushka, L'enfant et les sortilèges, Eugene Onegin, and Il barbiere di Siviglia, while in their concert series, he has conducted Beethoven's Violin Concerto, Fourth Symphony, and Fifth Piano Concerto, Tchaikovsky's Violin Concerto and
Romeo and Juliet Fantasy Overture, and Schreker's Kammersymphonie. In 2017-18, he conducted 28 performances of Carmen with the Vienna Symphony Orchestra in a highly successful production at the Bregenzer Festspiele.
Video
Komische Oper Berlin, Pelléas et Mélisande
Video
Houston Grand Opera, Rigoletto
Video
Komische Oper Berlin, La bohème
Video
Bregenzer Festspiele, Carmen
Contact
General Management
Maxine Robertson Management Ltd.
Office 127, 43 Bedford Street
London WC2E 9HA UK
Tel: +44 20 7993 2917
Email: mr@maxinerobertson.com
Management (North America)
Bill Palant, Étude Arts
Ansonia Station,Post Office Box 230132
New York, New York 10023
Tel: 929.777.0775
Email: bp@etudearts.com