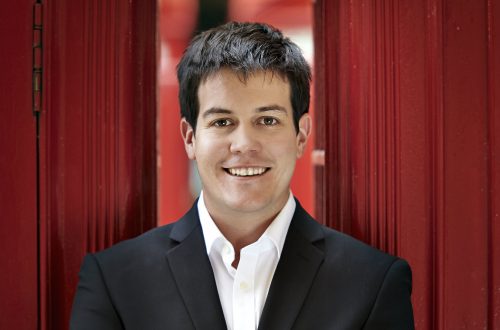 He's an exceptional accompanist, knowing both when to hold back and let the vocal line do the work, and when to assert himself and propel the music forward.
The Guardian, Tim Ashley
Ms. Davidsen didn't appear to shrink her voice, treating the room as if it were the Met, while Mr. Baillieu matched her with the grandeur of Liszt's Wagner transcriptions. These are sensitive musicians, though, and they followed "Tannhäuser" with smaller, rending songs by Grieg and Sibelius, as well as Richard Strauss.
The New York Times, Joshua Barone
Baillieu, a very experienced pianist and long-time collaborator of Davidsen, accompanied the soprano with an outstanding sense for the vast boundaries of her voice. Baillieu played even the most demanding parts of the evening's repertoire with true mastery, which provided a perfect background for an outstanding overall presentation of a very extensive program.
Opera Wire, Dejan Vukosavljevic
Yende's partner for this recital, fellow South African James Baillieu, was extraordinary, showing all the makings of an exceptional vocal accompanist: his vivid playing never upstaged his partner, and he followed her beautifully, his choices responding to hers in real time.

Baillieu brought a gorgeous variety of tone and natural freedom in his phrasing: he offered a gossamer touch in "Der Nussbaum," dreaming sighs in Donizetti's "Le crépuscule," and rippling breezes in Tosti's "Aprile." In Strauss's "Zueignung" he played with concerto-like virtuosity, contrasting with the airy glitter of "Ständchen." If Wednesday was indicative of his usual playing, Baillieu might become one of the few pianists to achieve real fame as a vocal accompanist.
New York Classical Voice, Eric C. Simpson
The strength of the performance — which ended with two encores, Grieg's little-known "To the Fatherland" and Schubert's well-known "Die Forelle" — was due in no small part to the gifts of Baillieu, the pianist. In the opening Schubert set, I noted what I thought was sometimes excessive rubato, but that proved a facile judgment about a musician so supportive and nuanced and distinctive that he was truly an equal partner. At the end of "Dichterliebe," the singer falls silent and the piano takes over, and it was a testimony to Baillieu's gifts that after an impressive performance by a charismatic singer, the piano so effectively, and so tellingly, had the last word.
The Washington Post, Anne Midgette
Discography
Described by The Daily Telegraph as 'in a class of his own' James Baillieu is one of the leading song and chamber music pianists of his generation.  He has given solo and chamber recitals throughout the world and collaborates with a wide range of singers and instrumentalists including Benjamin Appl, Jamie Barton, Ian Bostridge, Allan Clayton, Annette Dasch, Lise Davidsen, the Elias and Heath Quartets, Dame Kiri te Kanawa, Adam Walker, and Pretty Yende.  As a soloist, he has appeared with the Ulster Orchestra, English Chamber Orchestra, and the Wiener Kammersymphonie.
James Baillieu is a frequent guest at many of the world's most distinguished music centers including Carnegie Hall, Wigmore Hall, Concertgebouw Amsterdam, Vancouver Playhouse, Berlin Konzerthaus, Vienna Musikverein,  Barbican Centre, Wiener Konzerthaus, Bozar Brussels, Pierre Boulez Saal, Cologne Philharmonie, and the Laeiszhalle Hamburg.  Festivals include Aix-en-Provence, Verbier, Schleswig-Holstein, Festpillene i Bergen, Edinburgh, Spitalfields, Aldeburgh, Cheltenham, Bath, City of London and Brighton Festivals.
Read More
An innovative programmer, he has curated many song and chamber music festivals including series for the Brighton Festival, Wigmore Hall, BBC Radio 3, Verbier Festival, Bath International Festival, and Perth Concert Hall.
At the invitation of John Gilhooly OBE OSI, James Baillieu has presented his own series at the Wigmore Hall with Adam Walker, Jonathan McGovern, Ailish Tynan, Tara Erraught, Henk Neven, Iestyn Davies, Allan Clayton, and Mark Padmore amongst others.  This series was shortlisted for the Royal Philharmonic Society's Chamber Music and Song Award for an outstanding contribution to the performance of chamber music and song in the UK.
During the 2020-21 season the artist has been engaged by the Metropolitan Opera, Wigmore Hall, Carnegie Hall, Park Avenue Armory in New York, Kennedy Center in Washington, DC, Cleveland Institute of Music, Hamarikyu Asahi Hall in Tokyo, Aldeburgh Festival for the Britten-Pears Young Artists Program, as well as by the Samling Foundation, Heidelberger Frühling, Festspielhaus Baden-Baden, Concertgebouw Amsterdam, and Konzerthaus Dortmund.
James Baillieu was prize winner of the Wigmore Hall Song Competition, Das Lied International Song Competition, the Kathleen Ferrier and Richard Tauber Competitions, and was selected for representation by Young Classical Artists Trust (YCAT) in 2010 and in 2012 received a Borletti-Buitoni Trust Fellowship and a Geoffrey Parsons Memorial Trust Award.  In 2016 he was shortlisted for the Royal Philharmonic Society Outstanding Young Artist Award.
Recording projects include 'Heimat' with Benjamin Appl (Sony Classical), the complete works of CPE Bach for violin and piano with Tamsin Waley-Cohen (Signum Records), and albums on the Chandos, Opus Arte, Champs Hill, Rubicon, and Delphian Record labels as part his critically acclaimed discography.
James Baillieu is a Professor at the Royal Academy of Music, a coach for the Jette Parker Young Artist Program at the Royal Opera House, a course leader for the Samling Foundation, and is head of the Song Program at the Atelier Lyrique of the Verbier Festival Academy.  He also is International Tutor in Piano Accompaniment at the Royal Northern College of Music.  Highly sought after for masterclasses worldwide, recent sessions of learning have brought him to the Aldeburgh Festival, Cleveland Institute of Music, Metropolitan Opera Lindemann Young Artist Development Program, Friends of Chamber Music, Portland, Oregon, Vancouver Academy of Music, Canada, and to the University of Waikato, New Zealand.
Video
James Baillieu with Lise Davidsen
Video
James Baillieu with Jamie Barton
Video
James Baillieu with Louise Alder
Video
James Baillieu with Mark Padmore
Video
James Baillieu with Iestyn Davies and Allan Clayton
Video
James Baillieu with Peter Moore
Video
James Baillieu with Marianne Crebassa
Video
James Baillieu with Adam Walker
Video
James Baillieu with the Heath Quartet
Contact
Management (The Americas)
Bill Palant, Étude Arts
Ansonia Station,Post Office Box 230132
New York, New York 10023
Tel: 929.777.0775
Email: bp@etudearts.com