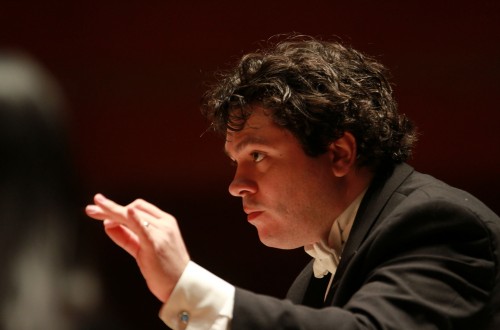 In the pit, Cristian Măcelaru, making his company debut, was a sensitive accompanist… The orchestra's playing was immaculate.
The Cincinnati Enquirer, Janelle Gelfand
Macelaru's authority with the music was obvious, with exquisitely precise colors he drew from Ligeti and the way Enescu's extravagantly delayed harmonic resolutions stayed aloft.  In Dvorák, he made the most of the music's broad strokes and found folksy oom-pah-pah moments in the brass.  But his Beethoven showed the best summation of his talent – and why Macelaru is such an up and coming figure in his field.

The Philadelphia Inquirer, David Patrick Stearns
Discography
Winner of the 2014 Solti Conducting Award, Cristian Macelaru has established himself as one of the fast-rising stars of the conducting world.  With every concert he displays an exciting and highly regarded presence, thoughtful interpretations and energetic conviction on the podium.  Cristian Macelaru came to public attention in February 2012 when he conducted the Chicago Symphony Orchestra as a replacement for Pierre Boulez in performances met with critical acclaim.  Since his Chicago debut, he has conducted that orchestra on subscription in three consecutive seasons.  The Chicago Sun-Times exclaimed: "Macelaru is the real thing, displaying confidence without arrogance and offering expressiveness without excess demonstration."
Conductor-in-Residence of the Philadelphia Orchestra, Macelaru made an unexpected subscription debut with the Philadelphia Orchestra in April 2013.  Since then, he has conducted Philadelphia on four subscription programs and will lead a subscription program in 15/16. Of his May 2015 concerts, the Philadelphia Inquirer wrote: "His Beethoven showed the best summation of his talent and why Macelaru is such an up-and-coming figure in his field."
Read More
The 2015/16 season sees Macelaru make his Lincoln Center debut at the Mostly Mozart Festival in August and his New York Philharmonic debut on an all-Rachmaninoff subscription program in November. He returns on subscription to the Chicago Symphony, Philadelphia Orchestra, Los Angeles Philharmonic and the National Symphony Orchestra in D.C. Internationally, he makes debuts with the Deutsches Symphonie-Orchester Berlin, Frankfurt Radio Symphony Orchestra, Rotterdam Philharmonic, City of Birmingham Symphony Orchestra, Royal Scottish National Orchestra, RTE National Symphony Orchestra of Dublin and Tokyo Metropolitain Symphony Orchestra. In North America, his debut appearances include Atlanta Symphony, Cincinnati Symphony, Minnesota Orchestra, National Arts Centre Orchestra, New World Symphony and San Diego Symphony.
Guest-conducting highlights of the 2014-15 season included Macelaru's Carnegie Hall debut on a program with the Danish National Symphony Orchestra and Anne-Sophie Mutter and subscription concerts with the Los Angeles Philharmonic and symphony orchestras of Chicago, Toronto, Baltimore, Detroit, Houston, Milwaukee, St. Louis and Seattle. Abroad he made debuts with the U.K.'s Hallé Orchestra and Bournemouth Symphony, the Hague's Residentie Orkest in the Netherlands and on a four-city tour of Germany with Ms. Mutter and the Danish National Symphony Orchestra.
Cristian Macelaru made his first conducting appearance at Carnegie Hall in 2012, leading a work on a program alongside Valery Gergiev in a Georg Solti Centennial Celebration.  In June 2015, he made his Cincinnati Opera debut in highly acclaimed performances of Il Trovatore. In 2010, he made his operatic debut with the Houston Grand Opera in Madama Butterfly and led the U.S. premiere of Colin Matthews's Turning Point with the Tanglewood Music Center Orchestra as part of the Tanglewood Contemporary Music Festival.
In addition to being appointed the 2014 Solti Fellow, Cristian Macelaru previously received the Sir Georg Solti Emerging Conductor Award in 2012, a prestigious honor only awarded once before in the Foundation's history.  He has participated in the conducting programs of the Tanglewood Music Center and the Aspen Music Festival, studying under David Zinman, Murry Sidlin, Rafael Frühbeck de Burgos, Robert Spano, Oliver Knussen and Stefan Asbury.  His main studies were with Larry Rachleff at Rice University, where he received master's degrees in conducting and violin performance. He completed undergraduate studies in violin performance at the University of Miami.
An accomplished violinist from an early age, Mr. Macelaru was the youngest concertmaster in the history of the Miami Symphony Orchestra and made his Carnegie Hall debut with that orchestra at the age of nineteen.  He also played in the first violin section of the Houston Symphony for two seasons.
Cristian Macelaru formerly held the position of Resident Conductor at Rice University's Shepherd School of Music, where he was Music Director of the Campanile Orchestra, Assistant Conductor to Larry Rachleff and Conductor for the Opera Department.  A proponent of music education, he has served as a conductor with the Houston Youth Symphony, where he also conceptualized and created a successful chamber music program.  As Founder and Artistic Director of the Crisalis Music Project, Mr. Macelaru spearheaded a program in which young musicians perform in a variety of settings, side-by-side with established artists.   Their groundbreaking inaugural season produced and presented concerts featuring chamber ensembles, a chamber orchestra, a tango operetta, and collaborations with dancer Susana Collins, which resulted in a choreographed performance of Vivaldi/Piazzolla's Eight Seasons.
Cristian Macelaru resides in Philadelphia with his wife Cheryl and children Beniamin and Maria.
Video
Schumann: Symphony No. 4, Detroit Symphony Orchestra
Video
Sibelius Violin Concerto, Danish National Symphony Orchestra
Contact
North American Opera Management
Bill Palant, Étude Arts
Ansonia Station, Post Office Box 230132
New York, New York 10023
Tel: 929.777.0775
Email: bp@etudearts.com
* in collaboration with Primo Artists