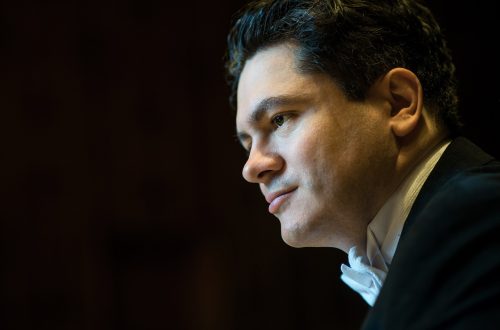 He is the most insightful and serious young conductor out there today.
The Chicago Sun Times, Andrew Patner
What makes Macelaru impressive is the huge sound he gets from the orchestra. He sought boldness, as though wrapping the hall in a thick, heavy velvet Rachmaninoff bow that implied a gift of some extravagance and possibly decadence. For the Symphonic Dances, Macelaru further increased the dosage of orchestra steroids. Even so, details came through well. The rich string playing and wind playing may have been inspired by Macelaru's work with the Philadelphia Orchestra; the brass blowout had the Chicago Symphony written all over it. The L.A. Phil responded spectacularly.
Los Angeles Times, Mark Swed
The conductor, who impressed last summer when he conducted Cincinnati Opera's "Il Trovatore," impressed once again in Elgar's "Enigma" Variations. This work, which concluded the evening, was given as fresh and inspired a performance as one could want. Each of the 14 variations – in which a friend of Elgar's is depicted – had distinctive character, ranging from delicate to blustery. The musicians responded to the conductor's leadership with polished, expressive playing. Of course, its heart is the "Nimrod" Variation. Here, the conductor began almost imperceptibly, and allowed the music to unfold simply, to its noble climax. The effect was quite moving..
Cincinnati Enquirer, Janelle Gelfand 
Discography
Currently in his first season as Chief Conductor of the WDR Sinfonieorchester, Cristian Măcelaru is one of the fast-rising stars of the conducting world. He was recently appointed as Music Director of the Orchestre National de France in Paris, one of Europe's leading orchestras, and will begin this position in September 2021.
In January 2020, Măcelaru received his first-ever GRAMMY® Award for conducting the Decca Classics recording of Wynton Marsalis' Violin Concerto with Nicola Benedetti and the Philadelphia Orchestra.
Summer 2020 will commence Măcelaru's first season as Inaugural Artistic Director and Principal Conductor of the World Youth Symphony Orchestra at Interlochen Center for the Arts. It will also mark his Fourth season as Music Director and Conductor of the Cabrillo Festival of Contemporary Music, the world's leading festival dedicated to contemporary symphonic repertoire. He leads premiere-filled programs of new works by an esteemed group of composers. Among the 2020 season's highlights are a dozen composers-in-residence including Sean Shepherd who premieres a new work for the Festival.
Read More
Cristian Măcelaru attracted international attention for the first time in 2012, when he stepped into the breach with the Chicago Symphony Orchestra, deputizing for Pierre Boulez. In the same year, he received the "Solti Emerging Conductor Award" for young conductors, followed in 2014 by the "Solti Conducting Award". Since then, he has performed regularly at the podium of the best American orchestras, including the Chicago Symphony Orchestra, New York Philharmonic, Los Angeles Philharmonic, Cleveland Orchestra, St. Louis Symphony and National Symphony Orchestra. A particularly close collaboration connects him with the Philadelphia Orchestra: Since his debut in April 2013, he has been on the podium of this orchestra over 150 times and served there for three seasons as Conductor-in-Residence.
Măcelaru has been in great demand as guest conductor with many reputable orchestras worldwide, among others the Symphonieorchester des Bayerischen Rundfunks, Royal Concertgebouw Orchestra, Dresdner Philharmonie, Leipzig Gewandhausorchester, Deutsches Symphonie-Orchester Berlin, Orchestre de Paris, Orchestre Philharmonique de Radio France, BBC Symphony Orchestra, Rotterdam Philharmonic Orchestra, Hallé Orchestra, Scottish Chamber Orchestra, City of Birmingham Symphony Orchestra and Danish National Symphony Orchestra.
The 2020/21 season marks Măcelaru's second year as Chief Conductor at the WDR Sinfonieorchester. He continues to strengthen his European presence with appearances including with the Royal Concertgebouw Orchestra, Dresdner Philharmonie, Bamberg Symphony, Finnish Radio Symphony, Netherlands Radio Philharmonic, Monte Carlo Philharmonic and Belgian National Orchestra. In North America, he returns to the San Francisco Symphony, Atlanta, Baltimore, Seattle and St. Louis Symphony orchestras.
As part of the 2020 Beethoven Year celebrations, Cristian Măcelaru leads the New Japan Philharmonic in an all-Beethoven program at Suntory Hall in Tokyo with violinist Anne-Sophie Mutter, cellist Daniel Müller-Schott and pianist Lambert Orkis.
Cristian Măcelaru was born in Timișoara, Romania and comes from a musical family. As the youngest of ten children, he received instrumental lessons at an early age – like all his siblings – in his case on the violin. His studies took him from Romania to the Interlochen Arts Academy in Michigan, University of Miami in Florida and Rice University in Houston, where he studied conducting with Larry Rachleff. He then deepened his knowledge at Tanglewood Music Center and Aspen Music Festival in masterclasses with David Zinman, Rafael Frühbeck de Burgos, Oliver Knussen and Stefan Asbury.
Măcelaru was the youngest concertmaster in the history of the Miami Symphony Orchestra and made his Carnegie Hall debut with that orchestra at the age of 19. He also played in the first violin section of the Houston Symphony for two seasons.
Cristian resides in Bonn with his wife Cheryl and children Beniamin and Maria.
Contact
North American Opera Management
Bill Palant, Étude Arts
Ansonia Station, Post Office Box 230132
New York, New York 10023
Tel: 929.777.0775
Email: bp@etudearts.com
* in collaboration with Primo Artists