American Modern Opera Company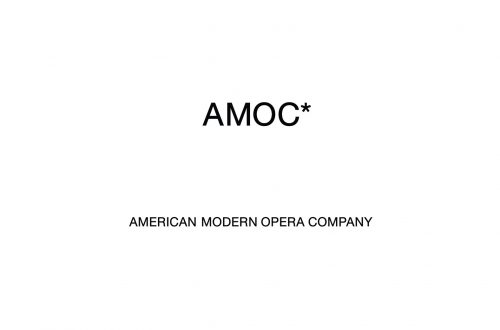 Downloads
The American Modern Opera Company is the artistic home for some of the most diverse and vibrant singers, dancers, and instrumentalists of our generation. AMOC will be the incubator and executor for our 17 core members' most ambitious, innovative projects. Our commitment is to working as an ensemble to reimagine the experience of opera – from conception to performance.
FORGING A TRUE REPERTORY COMPANY: AMOC's members are dedicated to building deep working relationships across years of collaboration in the pursuit of generating a body of new works. All of our artists drive the generation of projects and curation of collaborations within the company and beyond.
EXPANDING THE FIELD: We define opera as the medium in which multiple art forms collide and transform each other. AMOC projects take the form of collaborations between its core members and will range from recognizably "operatic" evening-length stage works, to chamber operas written for the company, to intimate duets between, for example, a dancer and an instrumentalist.
MAKING NEW WORK: One of AMOC's central goals is to build our own repertory, our own body of discipline-colliding work. Taking the form of our "Run AMOC!" festivals at partner institutions as well as one-off performances, these new works will sometimes feature brand-new music – for example, the cantatas Matthew Aucoin will compose for AMOC's singers and the Philharmonia Baroque Orchestra, with staging by Zack Winokur –and sometimes they will take pre-existing music into a brand-new context, as in Bobbi Jene Smith and Keir GoGwilt's use of Bach and Westhoff in A Study on Effort.
In AMOC's inaugural season, the company starts a new Run AMOC! Festival at the American Repertory Theater in Cambridge, MA in December, holds its first major teaching and performance residency at Harvard University in February, and is the Artist-in-Residence at the Park Avenue Armory in the spring. Future engagements include multiple performances at the Metropolitan Museum of Art and a commission, composed by Aucoin and staged by Winokur, from San Francisco's Philharmonia Baroque Orchestra & Chorale, featuring AMOC's vocal quartet.
Contact
General Representation
Bill Palant, Étude Arts
Ansonia Station,Post Office Box 230132
New York, New York 10023
Tel: 929.777.0775
Email: bp@etudearts.com